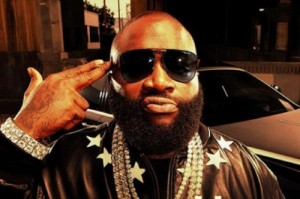 Rick Ross is currently on the country wide MMG Tour with fellow Maybach artists Meek Mill & Wale and Bad Boy's Machine Gun Kelly, earlier today Ross canceled 2 scheduled show in Greensboro & Charlotte, North Carolina after a gang named Gangster Disciples published a series of YouTube videos threatening the Southern rapper.
The cancellation of the 2 shows came after a nearly 10-minute video published recently featuring members of the North Carolina crew is titled "Rick Ross In Trouble with the GD's North Carolina."
They claim to have already given Ross a pass "for using our honorable chairman's name in a disorderly fashion – a dishonest fashion." That courtesy is over, and they know where Ross will be, mentioning Greensboro and Charlotte. They then say when they catch him in his Maybach his "time is through" and that Ross should know his penalty.

Some of the conflict seems to arise out of a reference to Gangster Disciples' leader Larry Hoover in Ross' song "B.M.F (Blowin Money Fast)" – hence the comment about "our honorable chairman."

Others have said it is not about Hoover and the GDs also appear to be upset that Ross has been acting like more of a gangster than he really is. Affiliated groups, such as ones in Florida and Georgia, have made their displeasure known on YouTube and demanded money.

"We need that cash now, we need that cash – now. We need that cash right now," one man says in a video from a Florida sect.

"We coming to you as a man William, he adds. "As a man, you supposed to honor your obligations. Therefore you going to do so. Until you do, you going to deal with the mob."
The MMG Tour is schedule to stop by Nashville Tennessee on Sunday, so far no signs of that show having to be canceled.