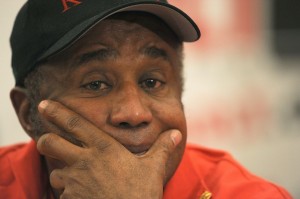 Famously known for being the trainer of Big Time Boxing Champions such as: Oscar De La Hoya, Lennox Lewis, Thomas Hearns & Wladimir Klitschko, and also for being the owner of the legendary boxing gym "KRONK GYM", Emanuel Steward sadly passed away on Thursday OCtober 25th, 2012 at the age of 68.

Steward was battling health issues for quite some time now, he was hospitalized in Chicago.
At the moment no cause of death has been revealed.
Klitschko and Hearnes have both made public comments since the passing of their long time trainer, someone who helped them get to the heights of their career and most of all their friend, Emanuel Steward:
"It is not often that a person in any line of work gets a chance to work with a legend, well I was privileged enough to work with one for almost a decade," Klitschko said Thursday. "I will miss our time together. The long talks about boxing, the world, and life itself. Most of all I will miss our friendship."

"He brought the very, very best out of me," Hearns once said of Steward.
Check out a video dedicated to Emanuel Steward: