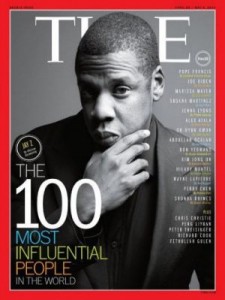 Among his peers; Beyonce, Michelle Obama, & Justin Timberlake, (just to name a few) Jay-Z also landed in the "icon" category and on the COVER for Time's Magazine's – April 29th issue – of the "100 Most Influential People In The World"! Jay-Z is now in historic company with Mahatma Gandhi and Winston Churchill.
And it didn't stop there! Time Magazine got non other than NYC's own Mayor: Michael Bloomberg to cover the Hov Story!
READ WHAT BLOOMBERG HAD TO SAY ABOUT HOV!
Here is a little piece of the story Bloomberg wrote on Jay-Z and his life:
"Jay Z embodies so much of what makes New York New York," Bloomberg writes. "A kid from a tough neighborhood who grows up in public housing, overcomes lots of bad influences on the street, never lets go of his dream, makes it to the top — and then keeps going, pursuing new outlets for his creativity and ambition."

The billionaire mayor further applauded Jay as a man who "never forgot his roots," sighting his "Empire State of Mind" single as a "love song" to the city of New York.